FAQ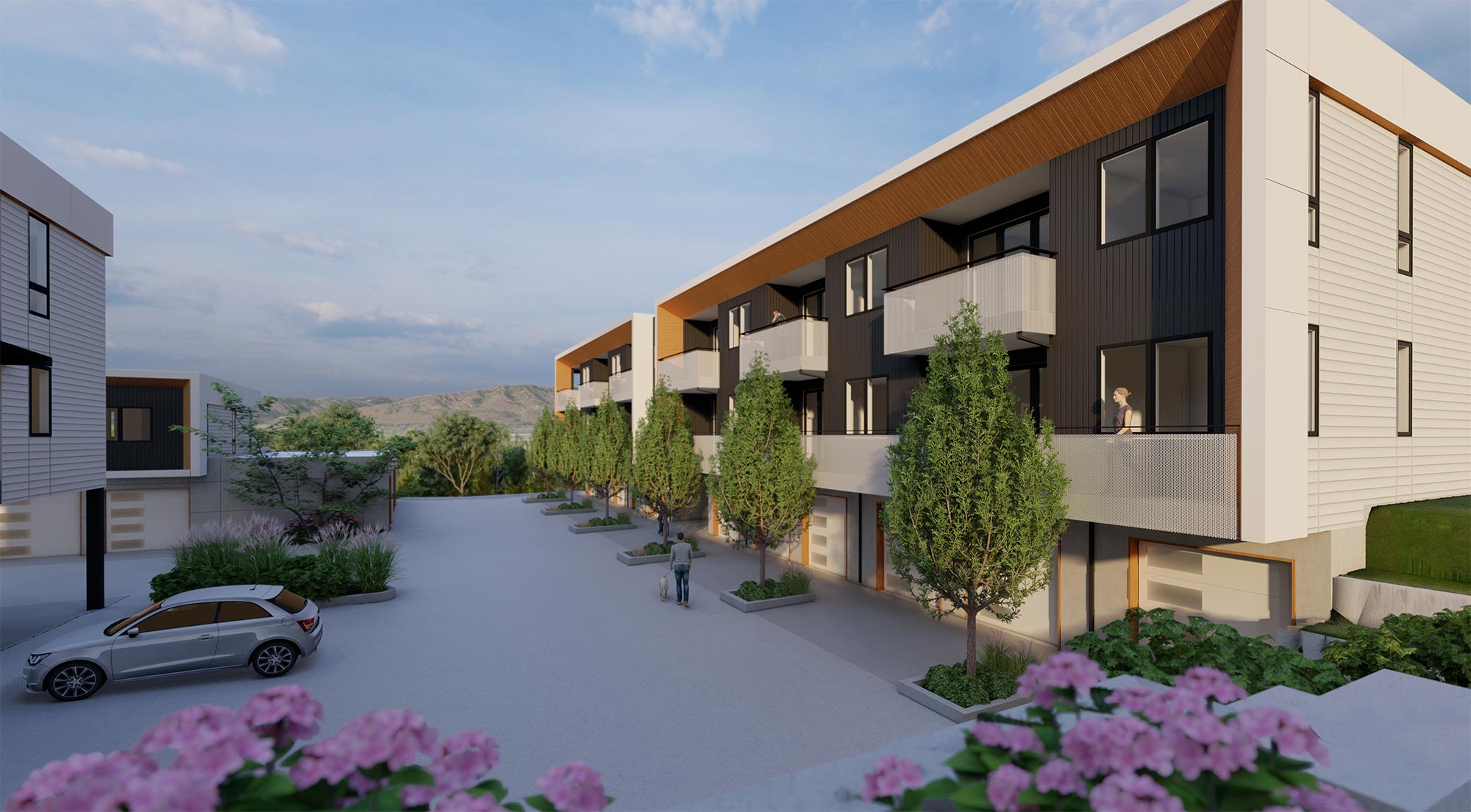 Have questions about Velo Condos? Find your answers here!
1
Adaptable Units: What are Adaptable ANSI A & B type units at Velo?
At Velo Condos two condominiums units have been designed as Type A adaptable units and additional Type B adaptable units are provided throughout the community. These homes have been designed so that they can be converted for users with different accessibility needs. Below is a list of accessible features of each type:
Type A Unit features:
An accessible route to and through the dwelling unit
Accessible door thresholds
36" interior doors
Lower cabinet and countertop height (34" v 36")
Removable cabinetry at sinks for wheel chair access
In wall blocking for future installation of grab bars at bathtubs, showers, and toilets
Appliances meeting reach range requirements
Type B Unit features:
Accessible route to and through the dwelling unit
Accessible door thresholds
34" interior doors
In wall blocking for future installation of grab bars at bathtubs, shower, and toilets
2
Addresses: What are the building addresses?
Building A: 3301 Airport Rd., Boulder, CO 80301 Building B: 3291 Airport Rd., Boulder, CO 80301 Building C: 3281 Airport Rd., Boulder, CO 80301 Building D: 3261 Airport Rd., Boulder, CO 80301 Building E: 3271 Airport Rd., Boulder, CO 80301
3
Amenities: What amenities does Velo offer?
Velo will have 2 wonderful community rooms, one with glass overhead doors for parties, co-working, coffee time, contemporary vending machines, kitchenette, restrooms & outdoor patio areas for seating. The community grounds will be well-landscaped and include park area, play area, bike repair & washing station, and interior pet washing station in Building B.
4
Bikes: Where do I store bikes & is there is bike wash/repair station on-site?
Store your bike, gear & car in the private garages, bike storage rooms and most units have generous storage inside the units. There will be bike-tire ramps at all interior stairs for convenient bike transport. Exterior bike racks will be located on-site as well. And yes, there will be an on-site bike wash & bike repair station!
5
Builder: Who is the builder?
DIRC Homes
is the builder and was founded in 2012. The principals of the organization have over 100 years of combined experience in home building. DIRC Homes delivers consistent and reliable residential construction experience emphasizing homeowner satisfaction and community cohesion through good design and value. DIRC partnered with Thistle on the award-winning Yarmouth Way neighborhood, a mixed income for sale community in the heart of north Boulder. DIRC understands the expense of purchasing a new home and works to deliver a contemporary and high quality home to the buyer, located in communities where people want to live. DIRC has built and sold approximately 250 new homes in a range of products and price points to meet the needs of the Front Range's growing population. The variety of housing DIRC has developed create buying opportunities for both experienced and first time buyers.
6
Bus Stop: Where is the nearest bus stop?
On Valmont at end of Airport Rd. https://www-static.bouldercolorado.gov/docs/TransitMap2018Final_JulyUpdate-1-201807301112.pdf?_ga=2.15135478.1790579061.1583333741-175101073.1582826834
7
Contracting: When will Units be released for contracting?
Reservation Holders will be notified as soon Units are available for Contracting.
8
Contracting: Can I pre-purchase a unit now if it hasn't yet been released?
Depending on the unit, yes! Please contact Deanna Franco at 720-422-5131 or at Deanna@8030realty.com for market rate units and Megan James at 630-363-9779 or Megan@8030realty.com for more information.
9
Construction Schedule: When will Velo Condos be built?
Construction has started as of January 2020! Estimated completion of our first residences will be in early Spring 2021 through Summer 2021 for our 1st sequence of buildings of E, C & D. The 2nd sequence will consist of buildings A & B. The entire project is projected to be completed by end of Fall 2022 but maybe sooner subject to pre-sales.
10
Earnest Money: How much is the Earnest Money Deposit & when is it due?
The earnest money deposit is 3% of the sales price. Half is due at time of Sales Contract & half due at framing completion.
11
Earnest Money Instructions: Who do I make the Earnest Money & Reservation Deposits to and where does it go?
Earnest Money & Reservation Deposits will be delivered to Land Title Guarantee Co. in Boulder. Personal or cashier's check should be made payable to "Land Title Guarantee Co." In the Memo be sure to write "E.M. Velo # " and write the unit #. Deliver checks to Land Title Guarantee Co. located at 2595 Canyon Blvd., Suite 340, Boulder, CO 80302.
12
HOA Dues: How much are HOA dues & what will they cover?
Preliminary HOA monthly dues, subject to change: Fixie: $235, E-Bike $248, Roadie $252, Townie $259, Tandem $319, Cruiser $329, Commuter $333, Hardtail $414, Enduro $421, 29ER $472, Hybrid $404, Mountain $486. The HOA fees will cover exterior building maintenance, trash/recycling, snow removal, common area landscaping, common area interior spaces, common utilities, hazard insurance & property management. Gas and electric utilities for each unit are individually metered. Water will be billed to the HOA and passed through to residents. Owners will be responsible for maintenance of their own private yards, landscaping, fencing & everything inside their unit including windows and their exterior doors.
13
HOA Management: Who is the HOA Management Company?
BOOM Properties. Contact is Jessica Deiter & she can be reached at jessica@boomprop.com or at 303-402-6900 x101.
14
Live/Works: Am I required to run a business out of the work space?
No, you are not required to run a business out of the work space.
15
Live/Works: Can an Owner rent out the work space to someone else?
Per code, the person using the work space must live in the Residence. "Live-work unit means a structure with a combination of uses where work activities occur as allowed in the industrial zoning districts and includes a dwelling unit for the business occupant, but not including a caretaker dwelling unit. Such unit shall have only one kitchen and shall be occupied by either the owner, the tenant, or the owner's or tenant's employee plus any other persons that may be allowed to occupy a dwelling unit pursuant to Section 9-8-5, "Occupancy of Dwelling Units," B.R.C. 1981. The live-work unit must be the residence of a person responsible for the work performed on the premises." For reference see
City of Boulder Land Use Code
16
Live/Works: What kind of businesses are allowed in the live-work condos?
Velo Condos falls within the "IG" zoning district per City of Boulder regulations; therefore, the work portion of the live-work condos must follow City of Boulder guidelines. See the City of Boulder website Title 9 Land Use Code with further details of allowed uses. For more information
click here
and scroll to Table 6-1 to view permitted uses. Grow operation are not permitted per the HOA.
17
Mortgage Lender: Is there a preferred mortgage lender & are there any incentives?
Yes! Amanda Sessa from SWBC Mortgage. To pre-qualify visit
https://www.swbcmortgage.com/teamsessa
. She can be reached at 303-883-8858 or asessa@swbc.com. Amanda's incentive is a free appraisal of up to $500.
18
Parking: Is there visitor parking?
Yes, there are 15 visitor parking spots available on a first-come, first-serve basis.
19
Pets: Can I have pets?
Yes! Owners can have a total of 2 household pets; Dogs & cats allowed. Velo will also have an interior pet wash.
20
Renting: Can I rent out my unit and are there any rental restrictions?
Currently, the HOA allows owners to rent out their condos with a minimum 30-day rental period. All rentals are governed by the City of Boulder rental ordinances.
21
Reservations: When & how can I reserve a condo unit?
First,
click here to Register Now.
Then complete the
Reservation Checklist.
Once we receive your completed Reservation Checklist, we will prepare your Reservation Agreement. If your request is accepted, a Reservation Deposit of $500 is required. Reservation Deposits are totally refundable until Buyer signs a Sales Contract. If Buyer proceeds to contract, the Reservation Deposit will convert to their Earnest Money Deposit.
22
Security: Are the buildings secured?
Yes! All buildings entries to common stairwells are secured and exterior entries are well lit.
23
Schools: What are the area schools?
Columbine Elementary, Casey Middle & Boulder High.
24
Sound: What about sound transmission assemblies between residences?
At Velo, we know how important sound considerations and safety features are for buyers. Our engineers have designed sound separation systems to reduce both airborne and structure-borne sound transmission. The floor-ceiling assemblies include layers of gypcrete and acoustical mats on top of subfloors with insulation between floor joists and drywall hung from resilient channels at the bottom side of the floor framing. The wall assemblies separating each unit are strategically designed with staggered stud assembly (two rows of offset framing members) and shaft wall assembly with two (2) layers of insulation with a resilient channel on one side of the wall to hang the drywall and further reduce sound transmission. In the shaft wall assembly two (2) framed walls are separated by two (2) one-inch thick layers of drywall. The framing is filled with batt insulation and drywall is hung from the framing to increase the reduction in sound transmission. 
25
Sound: Will I hear planes from the airport and who do I contact for more information?
Yes, aircraft will certainly be heard on occasion however Velo is on the quiet side of the airport. The busiest flight times are when the weather is favorable, in the Spring and weekends. Although the airport is operational day and night, nighttime fights are minimal and usually for medical purposes. For more information contact the Airport Manager, Denis Godfrey at 303-441-3108 or at GodfreyD2@bouldercolorado.gov or visit the website https://bouldercolorado.gov/airport.
26
Taxes: What will the property taxes be?
Property taxes have not yet been assessed by the County. Buyers may want to use the sales price to estimate taxes as a "best guess". A simple way to estimate taxes would be to multiply the sales price times .61% . Taxes are calculated as follows: Actual Value x Assessment Rate 7.15% = Assessed Value x Mill Levy .085713 = Taxes Due. State tax assessment rates & mill levies are subject to change. Each unit will be assessed by the County Tax Assessor by January 1st of the year of construction and assessed by the percentage of the completion at that time. Buyers are responsible for verifying taxes. See this link for more information: https://assets.bouldercounty.org/wp-content/uploads/2017/08/ar-property-tax-calculation.pdf